Partner
Michael is a founding Partner of JPS Walker Solicitors and head of the travel litigation department.
Michael qualified as a solicitor in 2009, having previously obtained a law degree from Lancaster University and completing Law School at BPP Manchester. He subsequently completed his training contract at a Legal 500 firm and has specialised in all areas of personal injury from the start of his career covering accidents and serious illnesses abroad, accidents at work and public liability claims.  He handles a wide spectrum of cases from those of modest value to catastrophic injuries.
In 2014, Michael moved to JMW Solicitors where he was promoted to the role of Associate. He was involved in setting up a successful Holiday Claims team gaining significant expertise in this niche area of law.
Michael is one of four directors who founded JPS Walker Solicitors in 2016. He supervises the personal injury and travel litigation departments and focuses on the day to day management of the firm to ensure we can continue to offer the best possible service to our clients. Michael uses the experience he has gained throughout his career at two highly regarded law firms to offer expert advice in a simple and effective manner helping his clients achieve the best possible result.
_________________________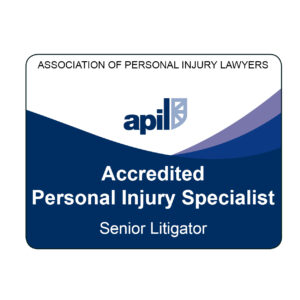 Consultant
Paul qualified as a Solicitor in 2002 and arrived at JPS Walker Solicitors as a Consultant in 2018. He has over 15 years' experience in personal injury and general litigation. Paul is also a senior litigator accredited member of the Association of Personal Injury Lawyers (APIL).
Paul has dealt with the whole spectrum of personal injury cases including those involving road traffic accidents, accidents at work and also public liability and product liability claims. He deals with cases involving compensation and damages across a large range of value, from the more modest to the catastrophic.
Paul has vast experience in dealing with chronic pain cases, serious orthopaedic injury cases, claims involving serious psychiatric injury or illness as well as those involving brain and head injuries. He understands the importance of rehabilitation and treatment following such injuries in order to get the best possible recovery as quickly as possible in addition to maximising any compensation. He believes that claims are not just about arguing liability, but about getting the best possible outcome for his clients to move forward with their lives.
Paul is known for fighting cases as far as is at all possible. He was, for example, responsible in the conduct of the successful appeal of an employer's liability claim involving specifically the interpretation of Regulation 4(1)(b)(ii) of the Manual Handling Operations Regulations 1992 in the Court of Appeal case of Egan v Manchester Children's and Children's University Hospitals NHS Trust [2008] EWCA Civ 1424; [2008] WLR(D)394; Times 3 February 2009.This case at the time and still forms important legal precedent.
Paul also deals with clinical and medical negligence claims involving, amongst other things, cosmetic or other surgery, delay in diagnosis cases, or relating to inadequate attendances at A&E.
You can e-mail Paul at paul.pike@jpswalker.co.uk or contact him on 0161 713 5575.
_________________________
Senior Associate
Since qualifying as a solicitor in 1994, Tracy has predominantly worked in the field of personal injury, helping those who have been injured through no fault of their own. She initially worked in a busy high street solicitors office and the type of cases she dealt with and the range of injuries suffered by her clients varied greatly. This covered the full spectrum of cases, from the most minor road traffic accident, where her client was awarded a few hundred pounds through to the most serious of accidents, where the award was in excess of £1,000.000.
Tracy's recent cases included a client who had suffered serious head injuries in a road traffic accident. Liability was initially denied but we were ultimately successful with the client receiving a substantial six figure award. She also acted recently for a gentleman who suffered serious injuries when he was struck by a heavy load whilst at work. The effect on the client was devastating and he was unable to return to work. Again, Tracy successfully obtained a substantial award for him. A recent, very difficult case involved a serious injury suffered by her client when the seatbelt mounting in her vehicle failed. The result for her was life changing bur the award we secured was sufficient to enable her move on and live independently.
Tracy has also acted for those who have been unfortunate enough to become ill or suffer an injury whilst on holiday.  Her clients suffered from illness in such places as Egypt, Tunisia and Turkey and the illnesses they contracted included E coli, campylobacter, cryptosporidium and salmonella. Thankfully, most illness are short-lived but sometimes the affects can cause problems for months and even years and the awards she secured for her clients reflected this. Tracy also acted for clients who have been injured falling downstairs, slipping on wet floors, tripping over protruding pipes and even falling from a camel!
Tracy's experience is not limited to those who have been injured or become ill on land. She recently acted for a group of over 20 holiday makers on a cruise ship who contracted a gastric illness. Liability was denied but eventually we were successful and they all were compensated for the illness they contracted. Another successful case involved a client who was also unlucky enough to contract an illness from food served to her on the flight to her honeymoon destination. Although she could not do anything about the spoilt honeymoon, she did ensure that the client was adequately compensated for both her terrible experience and the illness she suffered.
Over the years, the skills and knowledge Tracy has obtained in dealing with such a variety of cases, illnesses and injuries has helped her obtain the best possible settlements for her clients as she looks forward to helping more here at JPS Walker Solicitors.
_________________________
Litigation Executive
Lucy is a Litigation Executive and she joined JPS Walker Solicitors in 2017. She has spent her time developing her legal knowledge and professional skills. She is part of the travel claims team, dealing with clients who have suffered food poisoning, illness or injury whilst abroad.
Prior to JPS Walker, Lucy has spent over 4 years handling travel claims and has achieved excellent expertise in bringing successful claims brought under the Package Travel Regulations.
Lucy recently acted for a family of 6 holiday makers who had their holiday in Majorca ruined by illness. Lucy successfully claimed over £10,000 compensation for the family. The youngest family member being just 18 months old at the time of the holiday.